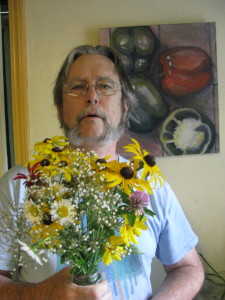 I turned 65 a few days ago and it sort of surprised me. When I was a kid I was pretty sure that I would not last very long. My favorite singers were overdosing on heroin and speed and it seemed like maybe it wasn't possible to be fiercely creative without burning out early. I was using speed, LSD, pot and whatever little white pill was handed me. I had the image of Van Gogh in the cornfield pressing his rifle to his chest. Like him, I had never sold my art, I'd given it away. Like him I got terrible headaches. Like him I thought my work would never be appreciated. But Van Gogh never had antidepressants or marijuana. He drank wine, which is depressing, and probably absinthe as well and my dear old father informed me that his worst hangover ever was after drinking absinthe.
So I sort of expected someday I would take too many drugs and fade away. It did not happen. I seem to have a cast iron system for processing drugs. The spine may be broken but the gut perseveres! So I have outlasted my expectations. A lot of art comes from despair. Reaching back to prehistory, looking for images and forms which make meaning out of the pain and imbalances in our lives. I am no longer very much into despair or depression. Most of the things I worried about have long since passed. I'm still kicking, still carving, still taking pictures and drawing pictures…. it seems hard to stop me! So now I have to think about things like web pages and crashing hard drives. But worry is nothing new to any artist. We worry about the paint drying, we worry about the fire dying, we worry about running out of beer. But we do not stop, even when we pass Go. We pick it up and put it down.
The work goes on. The artist perseveres.